Your online reputation affects you whether you like it or not, which is why it's imperative in today's fast-paced world to implement an effective online reputation management strategy for you brand.
Consider the following example from marketing strategy consultant Dorie Clark.
Several months ago, as a favor to a friend, I did an informational interview with a recent grad — a nice young woman with an Ivy League degree. At the end of our coffee, she leaned in and lowered her eyes. "There's something else I should mention," she said. "I'm not sure if you Googled me before we met, but… there are some negative things being said about me online." Her distinctive name and a deranged ex-boyfriend conspired to create a reputation nightmare that's taken years to resolve and crippled her job search efforts.
Yes, anything can be used against you. Whether you're an individual, a small business, or a multi-national corporate organization, the internet has made the availability of information instantaneous, and potentially devastating for your reputation.
And although this example may make even the best web marketing company feel like staying well away from any online media or means of social media marketing, you better rethink your decision. Statistics show that over 65% of your potential customers will be considering your brand's reputation using an online media source. That's a huge slice of the revenue pie that is scouring the internet looking for reasons to (or not to!) do business with you.
What People Say About You, Matters
A study published by the Communication Director in 2011, found that out of the seven dimensions of corporate reputation (products/services, innovation, workspace, governance, citizenship, leadership & performance), products and services and innovation, together only account for an average of 30-45% of perceived reputation.
What makes up the the remainder? The company's reputation, and the perception of the people behind the products that they sell.
Leading companies realise that you need to have your Orange County reputation management strategy firmly in place to be able to do your best business in 2016. There's a competitive advantage to be had in our global marketplace that can be obtained by building a positive online reputation, and gaining the trust of your followers.
And although they are the focus of many small business startups, it should now come as no surprise that the physical products and services offered by your business are merely a value proposition you use to enter the market. True business growth occurs once customers trust the products or services you offer, and that's where reputation management shines.
(Almost) Everyone Google's You…
As you've just found out, the quality of your product or service offering means little in comparison to what people think of you online.
And that in today's "noisy" online environment, it's never been more important for your business to implement a structured reputation management strategy to ensure that when people start looking for you, they find the good stuff, and not the bad (if there is any!).
Think it sounds unrealistic? According to Internet Live Stats, online users conduct an average of 40,000 searches on Google every second. Think about it. Someone, somewhere out there could be looking for your profile to offer you a job, contract, or an exciting new business opportunity. What if they came across your drunken college photos on Facebook?
"70% of U.S. recruiters and hiring managers have rejected candidates based on information found online."~ CrossTab's "Online Reputation in a Connected World"
Your online reputation is given merit based on results from key authority sites that you use to promote yourself and your business. Facebook, LinkedIn, Twitter, Pinterest, Google – these are all authority sites that contain a wealth of information that's available to strangers, family, clients, and potential employers. Any information you post online forms part of your online reputation, and it's all up for grabs.
As an example, almost 15 years ago, Robert Downey Jr. was the target of many punchlines for late night TV show hosts. At that point, his career had nearly disintegrated, and his personal life had spiraled out of control with substance abuse.
So how did he build a new reputation for himself? He started making really good movies and giving top-notch performances. He flooded the world with all his good qualities, and as a result very few care about his past. The quality of this new content overshadows everything else.
Just like Robert Downey Jr., you need to ensure that, if your name were Googled, the search engine results display a story you want your prospective client to see. Sure, we've all made mistakes, but the internet is an unforgiving and ruthless beast that must be tamed by an effective personal reputation management strategy.
Examples of How NOT to Manage Your Online Reputation
So far we've talked a lot about how important your online reputation management is, so let's look at some real-world examples of the importance of online reputation management.
Today, it has never been easier as a consumer to voice you opinion of your experiences globally and instantly via a smartphone and social media. Sometimes this is a good thing – when customers become raving fans of your brand – and sometimes it can be devastating to business. It's your ability to preempt this, and if necessary, react to any backlash fast, and in a way that reflects your appreciation for your customer's thoughts – no matter what they may be.
Consider these typical business scenarios:
What if your product/service were to spark criticism online?
What if your employees are not social media savvy, and their response makes matters worse?
What if your competitors decide to take advantage of this?
These are some important circumstances where an effective online reputation management plan could save the day.
Let's take a look at three famous cases of online reputation management failure:
Dark Horse Cafe
Dark Horse Café received a tweet in January 2010 criticizing their lack of electrical outlets for customers wanting to use the space to work on their laptops. Their response went along the lines of: "We are in the coffee business, not the office business. We have plenty of outlets to do what we need."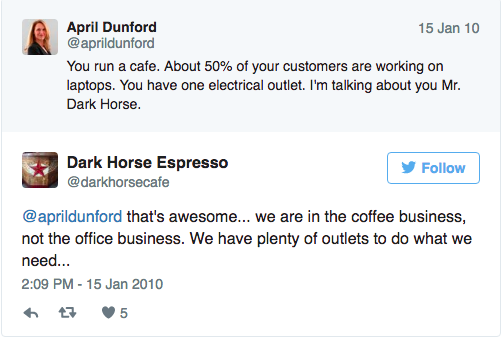 This is an excellent example of how to damage your online reputation further, and turn customers away due to your "I don't really care" attitude towards your clients. Many blogs decided to report the incident, and it was labelled across the web as a negative public relations case.
Nestlé
Food giant Nestlé received a number of negative comments about their questionable environmental practices a few years ago, and rather than address them, they decided to put their head in the sand and pretend not to notice. Big mistake.
Online followers of the issue started becoming aggressive toward the brand, and started posting damaging material such as altered versions of the Nestlé logo. The feedback was so damaging that it forced the company to close their public page. So what's the takeaway from this? When it comes to queries and concerns your customers have made public online, do not pretend people aren't talking. Address any criticism as soon as possible.
Amy's Baking Company
Amy's Baking Company fought fire with fire against a one-star online review on Yelp. The insults Amy – the owner and head chef – threw back at the reviewer were eventually picked up by the local news, and sent a wave of negative publicity Amy's way. In this (extreme) case, it should be obvious that negative attention like this is clearly not a good form of publicity for your brand.
Your Online Reputation Management, Matters
In the world of online content, your reputation is more vulnerable than ever before. People have the ability to comment in real time on events in your life, and (almost) anyone has the ability to contribute. Mistakes happen though, and people can be really unkind. So if a Google search uncovers undesirable results, then you need an effective online reputation management system to make your perceived wrong-doings, right again using genuine, live, positive customer feedback.
But before it even gets to this stage, any of the best online reputation management company coaches will tell you that you need to prevent negative publicity from rearing it's ugly head in the first place. And you can do this by offering quality online and offline experiences that your customers truly want from you.
That's what successful online reputation management is all about.
Resources:
The Definitive Guide to Online Reputation Management
The competitive advantage of corporate reputation